Dr. Fuhrman's scientifically proven system, Eat For Health, enables you to finally conquer your cravings and food addictions, while steering your taste buds toward healthier food choices. Medical research proves that this is one of the most effective weight loss method ever studied. But be aware of the side effects…you may experience reversal of diseases such as heart disease, high blood pressure and diabetes, and you will feel better than ever before!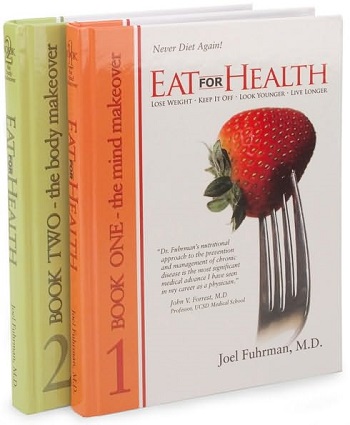 In this two-book set, you are introduced to Dr. Fuhrman's high nutrient diet-style, with four phases of meal plans and fantastic recipes. Start where you are comfortable and progress at your own pace or jump right in to phase four to maximize weight loss and optimize the therapeutic effects for disease reversal.
Book One of Eat For Health, the primer, teaches you how to transform your thinking about health and disease. Book Two of Eat For Health, the menu planner and cookbook, gives you a step–by–step plan for making this manageable for you and your family. Plus with over 100 great-tasting recipes, you'll be amazed at how satisfying healthy food can be!
More About Eat for Health…
Dr. Joel Fuhrman is one of the leaders in holistic nutrition and how to use diet to heal. I love doctor Fuhrman's work because it accomplishes dietary principles and goals that I already believe in. These include eating plant-based or mostly plant-based foods, eating generous amounts of fresh greens and other vegetables, as well as fruits, berries, nuts and seeds, and other nutritionally dense plant foods.
Special emphasis is given to choosing foods that have a high ratio of micronutients, or non-caloric vitamins, minerals, antioxidants, and phytonutrients to calorie ratio. He takes this to a whole new level by assigning all foods an ANDI score or Aggregate Nutrient Density Index. For instance, let's say you eat a salad. You take some iceberg lettuce and dump some gross store bought salad dressing from a plastic bottle on it and it contains various artificial ingredients and the primary high calorie component is soybean oil from GMO soybeans. The iceberg lettuce itself has almost nonexistent levels of micronutrients so essentially you are putting calories in your body from GMO soy oil with virtually none of the many healing micronutrients that healthy plant based foods come with. This salad would have a very low score for nutrient to calorie ratio because of using foods with a low ANDI score, yet people eat them all the time thinking they are "being so good with their diet today for eating a salad".
As Dr. Fuhrman explains, the whole things was so devoid of nutrients that from a health standpoint you may as well have just drank the cheap salad dressing. On the other hand if you make a salad out of darker greens and lettuces, and then put a nutritionally dense homemade salad dressing made from things such as blended nuts and seeds, avocados, and healthy vinegars and herbs, you have drastically enhanced the healthfulness of that salad. Not to mention the fact that eating the first salad described is gross once you get accustomed to eating a real salad.
Other principles Dr. Fuhrman teaches besides choosing highly nutritious foods are how to prepare them in a way to preserve those nutrients and concentrate them, eating more raw foods, and creating delicious meal plans.
Although not everyone thrives on the same diet, I highly recommend this diet or some modified version of it for anyone with Lyme disease, Fibromyalgia, autoimmune disease, vascular or heart disease, high blood pressure, migraines, and many other health conditions. This is a good base diet plan. Here are a few modifications to make it even better for you as an individual:
1. If you are very thin the complete avoidance of all oils might not be best for you at this time because you need the calories. Someone underweight can benefit from high quality healthful oils like flax oil, olive oil, coconut oil, organic butter, and high quality fish oil.
2. The diet allows small amounts of dairy like skim milk, and large amounts of gluten in the form of whole wheat. It is likely that someone who is really trying to heal may want to avoid these and find alternatives like non-gluten grains and bread, and plant based milks like rice milk, coconut milk and others (please no soy milk).
3. While doctor Fuhrman's diet could revolutionize American health and the obesity epidemic with all its problems like high blood pressure, his strict avoidance of salt is not needed for someone with Adrenal exhaustion, fatigue, and low blood pressure. Some healthful salt like Himalayan salt added to this diet would be fine in those cases. In fact most people could add a little salt to this diet and it would be OK., but never let salt become your main seasoning. Your taste buds will progressively desensitize to the salt and you will eat more and more. I believe in limiting salt and instead using a wide variety of healthful spices. A healthy diet doesn't need to be bland.
4. Some people are fast oxidizers. They burn fat and protein quickly and need lots of if for their metabolism. These folks would do better not going completely plant based or vegan, but instead adding some high quality grass fed organic meats into their diet and also focusing on plant foods that are high in protein.
More About Dr. Joel Fuhrman…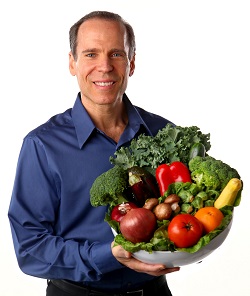 Joel Fuhrman, M.D. is a board-certified family physician, New York Times best-selling author and nutritional researcher who specializes in preventing and reversing disease through nutritional and natural methods. Dr. Fuhrman is an internationally recognized expert on nutrition and natural healing, and has appeared on hundreds of radio and television shows including The Dr. Oz show, The Today Show, Good Morning America, and Live with Kelly. Dr. Fuhrman's own hugely successful PBS television shows, 3 Steps to Incredible Health and Dr. Fuhrman's Immunity Solution bring nutritional science to homes all across America.
Dr. Fuhrman's #1 New York Times best-selling book, Eat to Live, originally published in 2003 (Little Brown) has sold over 1,000,000 copies and has been published in multiple foreign language editions. In October 2012, Super Immunity (HarperOne) reached the New York Times best seller's list and in January 2013, The End of Diabetes (HarperOne) became his third New York Times best seller. His latest book, Eat to Live Cookbook (HarperOne) debuted at #1 on the New York Times best seller list in October 2013, one week after its release. In addition, Dr. Fuhrman has written several other popular books on nutritional science which include: Eat for Health (Gift of Health Press), Disease Proof Your Child (St. Martin's Griffin), Fasting and Eating for Health (St. Martin's Griffin) and the Dr. Fuhrman's Nutritarian Handbook and ANDI Food Scoring Guide (Gift of Health Press).
For more information about Eating for Health visit https://www.nhsofarizona.com/